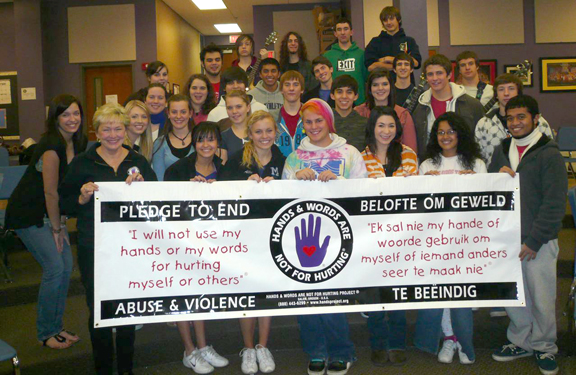 Student activists under the guidance of  Mr. Jim Taylor, Director of Choirs, created an elective "Hands and Words Are Not For Hurting Project Class" promoting widespread participation in the Purple Hands Pledge to end abuse and violence in their homes, school, community and internationally.
The Hands Project's most recent international partnership was formed with the Family and Marriage Society of South Africa (FAMSA) and their Director, Marietha Oelofse.  FAMSA created a program entitled "Violence Awareness Program" to work with children in their schools as a tool to be used by educational trainers to seriously address the issues which help to perpetuate violence in the home and society.  They found the Hands Project on the internet and thought "it was a stunning idea"!  In just one short year a strong alliance has begun.
Funding was not possible for FAMSA to purchase Hands Project materials.  The Hands Project Director asked McNary High School if they would be willing to raise money to send "Hands" materials to the participating schools in South Africa. Their answer was a resounding YES!
Students in the Hands Project Class and Fine Arts Department performed a benefit concert entitled "A Night of Hope" raising $1500.00.  Their goal was achieved!  Official Hands Project materials were shipped to over 25 schools who have implemented the Purple Hands Pledge.   The schools are located in city of Potchefstroom in the Northwest Provence of South Africa.  McNary High School students efforts reached over 4000 students that impacted the children's lives with amazing results according to FAMSA Director.  She said, "I am amazed  at the fact that a school community would go to the trouble to do a fundraising to help us towards our project."
The McNary students are overjoyed with the difference they have made in this endeavor!
THANK YOU!
(Pledge Banner shown above in combination English and South Africa's native language Afrikaan).
[nggallery id=37]