Polytechnic High School — Khabarovsk, Russia
Olga Volnycheva, Teacher of English & American Studies
Olga Shares her Reflections 19 Years Later!
♥ Olga Volnycheva, an award-winning teacher, and a group of her students discovered the Purple Hands Pledge™ during their visit to Wood Middle School in Wilsonville, Oregon in 2002.
♥ Polytechnic High School was the first school in Russia to implement the Hands & Words Are Not For Hurting Project®. Olga began a partnership with our education organization by implementing the Purple Hands Pledge™ within her school and her local community.
A Glimpse of Olga's Activism in her city of Khabarovsk, Russia prior to immigrating to Portland, Oregon in 2005, where she continued her teaching career and activism in the United States:
♥ Orphanage
♥ Teachers Training Institution
♥ Summer Camps – Polytechnic High School
♥ Local TV, Radio, and Website Announcements
♥ Presentation to the Teachers of Regional Schools
♥ Peter the Great St. Petersburg Polytechnic University
♥ Youth City Forum – "Kindness Gives Birth to Kindness"
♥ Academy of Law and Economy – Model of United Nations
♥ Inspired other educators to implement the Purple Hands Pledge™ in Russian Schools
♥ United Nations Convention on the Rights of Child and Children's Rights Protection
"More and more students in our school join the Purple Hands Project, and I can see its impact on the young souls."
"We seize every opportunity to share this amazing project with many other people, and the Purple Hands Pledge™ chain becomes longer and longer."
"Sharing letters, gifts, interesting ideas, thoughts, and projects will build a bond between cultures and help us all understand a little better."
"I think we should be more open to learning, sharing, and understanding of our differences and it will bring only positive results and benefits."
"My confidence is strong in continuing our efforts to make this imperfect world a little better and do our best to spread the ideas of Purple Hands/Red Hearts Project"
Olga's Awards
Excellence in Teaching Award
Olga received the Excellence in Teaching award in 2000, 2001, 2002, 2003, and 2004, from the American Consulate in Vladivostok, Russia.
Excellence in Teaching Medal
The Medal for Excellence in Teaching is given by the Federal Department of Education in Moscow, Russia.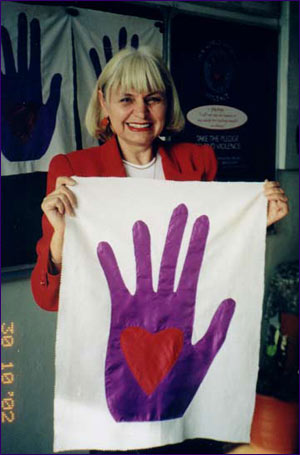 Olga Volnycheva – Russian Ambassador for the Hands & Words Are Not For Hurting Project® since 2002
Published Author
"You Know What Day It Is" 2010
A book about American holidays that aims to give immigrant students an appreciation of American culture.
"It Behooves You to Protect" 2014
"Time of Forgotten Memories" 2016
Olga's Biography was accepted into the Library of Congress.
"Native Strings" 2018
Russian Holidays and Traditions.
A message of gratitude from Ann S.  Kelly, Founder/Executive Director
Hands & Words Are Not For Hurting Project®
"Olga is self-confident and highly motivated.  She demonstrates patience, kindness, and creativity as she teaches others valuable, confidence-building, life skills.  Her enthusiasm for life and sense of humor are wonderful attributes that inspire all who know her. Olga is wonderful in her ability to communicate her experiences as a teacher in Russia, exchanging cultural and educational experiences with educators and students alike. I have had the pleasure of working professionally with Olga here in Oregon.  Together we visited many schools throughout Oregon's Willamette Valley and the Boys and Girls Club of Salem, Oregon. She led every group teaching the Russian translation of the Purple Hands Pledge™.  She was genuinely welcomed by students and staff everywhere we went.  I value her commitment, passion, vision, hard work, and dedication to her profession.  She is an outstanding, award-winning educator! I am grateful and proud to call her my friend!"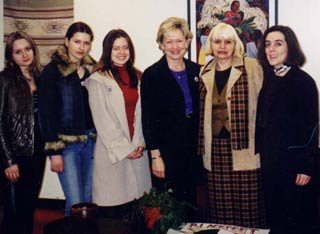 Senator Kate Brown, far right.
Olga Volnycheva, second from right.
Ann S. Kelly, center. Russian Students, left.
Senator Kate Brown, Majority Leader of the Oregon Senate, officially welcomed Olga and her students and introduced them to the Oregon Legislature at the Oregon State Capitol in Salem, in 2003.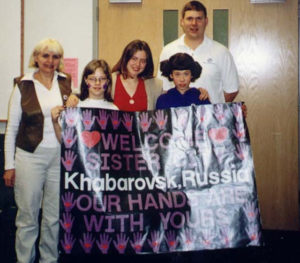 Salem Boys & Girls Club, Salem OR
Olga Volnycheva, left. Russian student Olga, center.
Neil Johnson & 2 members of Salem Boys & Girls Club.
Salem Boys & Girls Club welcomes Olga and her students with a beautiful, heartfelt keepsake that reads:
"WELCOME SISTER CITY
Khabarovsk, Russia
OUR HANDS ARE WITH YOURS"
During the summer of 2005, Olga presented at the state-wide conference for the Confederation of School Administrators (COSA) held on August 2-4, in Eugene, Oregon.  She was a keynote speaker to school superintendents and principals (K-12) regarding her teaching experience in Russia and the importance of teaching the Hands & Words Are Not For Hurting Project's message and Purple Hands Pledge™.  She co-presented with Ann S. Kelly and Pete Teller, Counselor, Walker Middle School located in Salem, during a break-out session for conference attendees. She was enthusiastically welcomed by all who attended!