Peace Corps in Cambodia
Battambang Town, Battambang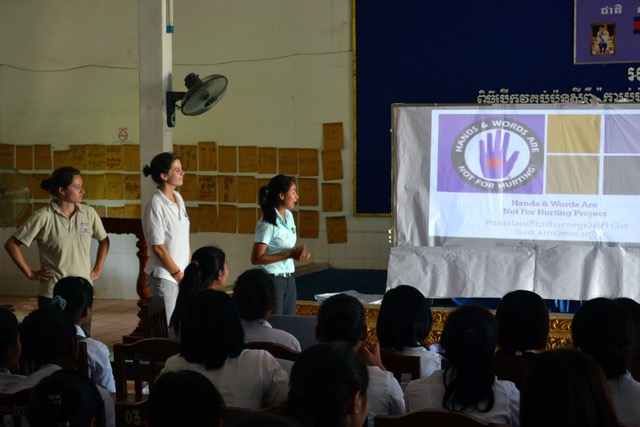 Elizabeth Wilcox, English teacher, presents the Purple Hands Pledge™
"Domestic violence is a huge issue facing many Cambodians and I thought it would be a great idea to implement the project throughout schools here in the city of Battambang and share these with other volunteers throughout Cambodia."
—Elizabeth Wilcox
Peace Corps Volunteer, Elizabeth Wilcox, teaches Purple Hands Pledge™ to students in the
Province of Battambang
As a student at Linfield College in McMinnville, Oregon, Elizabeth volunteered with the Hands & Words Are Not For Hurting Project®, and was inspired to introduce the Purple Hands Pledge™ to her Khmer Peace Corps Host and Teacher, Chea Phanet.
What did Elizabeth and Phanet accomplish? 
♥ Cambodian Ministry of Education approval of teaching the Purple Hands Pledge™
♥ Battambang Teacher Education College – Teacher Training Workshop(s) on Bullying and Domestic Abuse
♥ Youth Camp with 3 fellow Peace Corps Volunteers and help from Sinouern and Sophorn, two Khmer counterparts
♥ Introducing the Pledge to "Monivong High School" (~4000 students)
♥ Brought the Purple Hands Pledge™ to the NGO (Non-Governmental Organization) Elizabeth taught at
Peace Corps – Cambodia
How did they do it?
♥ Volunteers in Cambodia work with their communities on projects in education. During their service in Cambodia, Volunteers learn to speak Khmer.
♥ The English Teaching and Teacher Training Project works to develop the English language and critical thinking skills of Cambodian students, teachers, and community members to help them gain access to personal, professional, and academic opportunities.
♥ Volunteers teach at Upper and Lower Secondary Schools, Primary Schools, and Teacher Training Centers.
♥ Volunteers co-teach with a Cambodian national teacher. This practice benefits the students and enhances the Cambodian teachers' language capacity and builds their technical classroom skills.
♥ Volunteers share modern teaching practices, help design and deliver lessons, build communicative English language skills and introduce effective classroom management techniques.
*Purple paper was not available.