McNary High School — Keizer, Oregon
International Outreach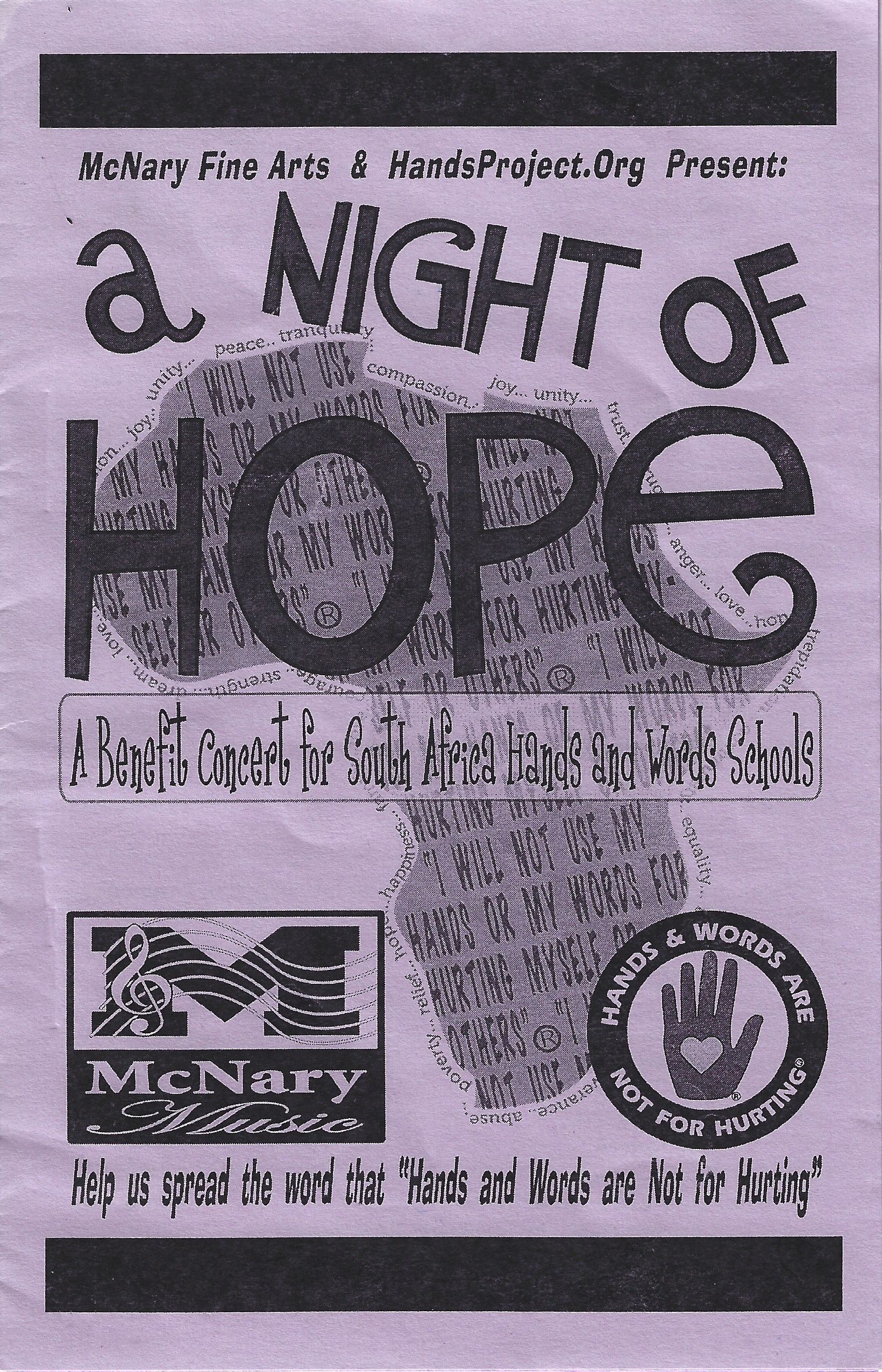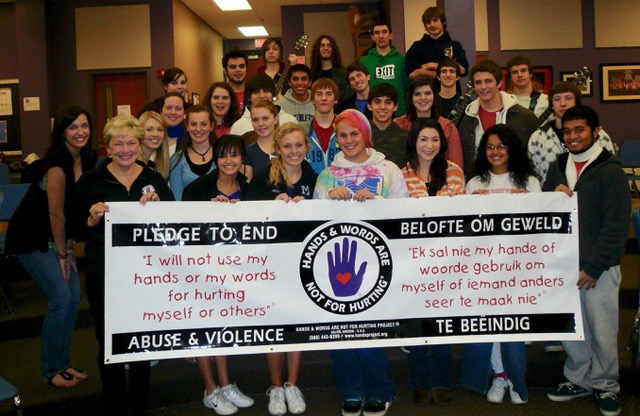 McNary High School Fine Arts Students pictured with the English/Afrikaans Pledge banner donated to The Family and Marriage Society of South Africa(FAMSA) &
the Violence Awareness Program (VAP)
♥ McNary High School Music and Fine Arts Student Activists were inspired to create a benefit concert entitled "A Night of Hope" for South African Schools.
♥ Students' passionate performances included music and skits focused on violence prevention education.
♥ The students raised a total of $1450.00. Their goal was achieved!
♥ Funds raised were used to donate official support materials (magnets, posters, wristbands, purple hands bears, stickers, etc.) to effectively implement and sustain the Purple Hands Pledge™ in 49 schools and communities in the Northwest Province of South Africa.
♥ McNary High School Student's efforts reached over 4000 students impacting the children's lives with amazing results!
♥ FAMSA Director, Marietha Oelofse states, "I am amazed at the fact that a school community would go to the trouble to do a fundraising to help us towards our project."
Hands & Words Are Not For Hurting® — Elective Class!
Under the guidance of Mr. Jim Taylor, Director of Choirs, student activists created the elective "Hands and Words Are Not For Hurting Project® Class" promoting widespread participation in the Purple Hands Pledge™ to end abuse, violence, and suicide in their homes, school, community, and internationally. 
As many as 150 students participated in the Elective Course. Students were eager to be a part of the elective class, as it was the first of its kind. Committees were formed within the course and many activities were organized.
My heartfelt gratitude to Mr. Jim Taylor for bringing more than music education to your students! Changing Lives!  Saving Lives!
– Ann S. Kelly Founder/Director, Hands & Words Are Not For Hurting Project®

A New Generation Leading the Way for Positive Change!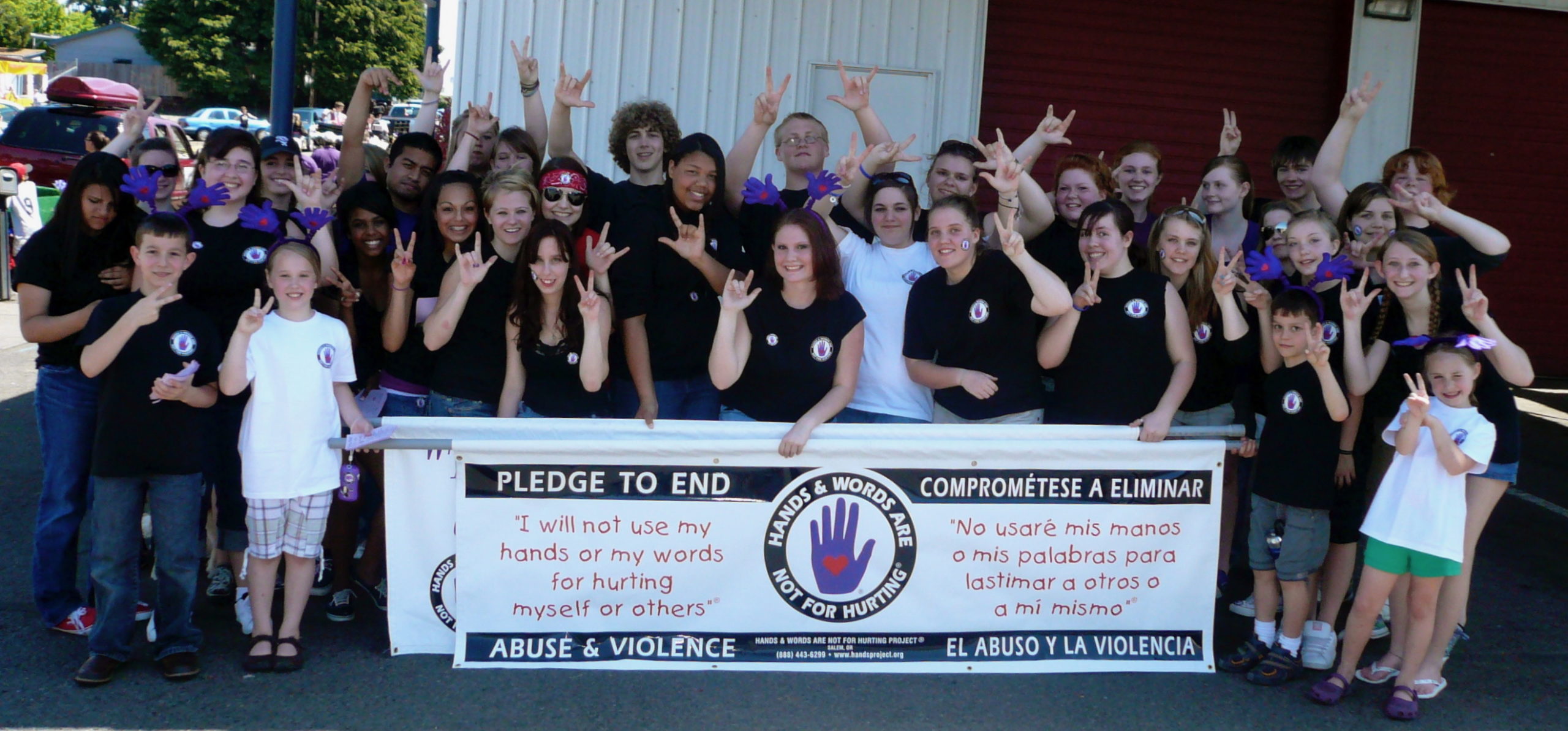 Accomplished Activities Within the Community – Students in Action!
♥ Iris Festival Parade: McNary students & volunteers marched in the Iris Festival Parade with Official Pledge Banners while also handing out Family Pledge Letters and Purple Hands Pledge™ Stickers
♥ Annual Hands & Words Are Not For Hurting® Week (3rd week of October):
—Purple Hands Assembly at Lee Elementary, Presented by students Christianna Allen, Sam King, and Becca Cross
—Marion County Commissioners Presentation to receive Annual Proclamation
♥ "Night of Hope": Benefit concert organized to raise funds to send official Purple Hands materials to 49 schools in South Africa.
♥ Marion County Oregon Fair: Hands & Words Are Not For Hurting® Students organized and worked the Purple Hands Pledge™ booth at the County Fair
♥ Cummings Elementary School: Community Fair
♥ Child Abuse Rally: Distributed Purple Hands Magnets, Stickers. Students led participants in reciting the Purple Hands Pledge™.
Accomplished Activities Within the School – Reaching their Peers!
♥ Hands & Words Are Not For Hurting® Annual Week: One entire week of education and outreach with McNary's Student body
♥ ChristiAnna Allen, student,  produced compelling public service announcement videos for the Hands & Words Class and McNary's Health Class, for review and discussion. Both videos were shown to the entire student body. Topics included: Homeless Teens and Media Influence.
♥ David Blake, student, produced two powerful youtube videos covering depression and suicide prevention (Click Here To View Videos)
♥ Bulimia Awareness in Restrooms: Non-offensive/Non-triggering posters in every stall
♥ Words that Hurt Campaign: Stop the use of the R-word (retard), Stop the derogatory use of "Gay"
♥ Purple Hands Wall: Displays of the Purple Hands Pledges from students in McNary Choir and the Hands & Words Elective Class