Quentin Elementary School — Avondale, Arizona
Grades K-8
♥

1,000+ Students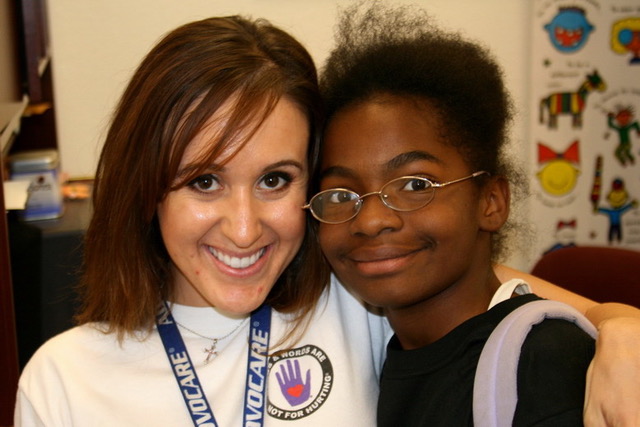 Vangie Lampee, School Counselor, left, alongside student during
Purple Hands Pledge™ Day at Quentin Elementary
♥ Vangela Lampee, counselor, was the heart of the Hands and Words Are Not for Hurting Project® at Quentin Elementary where she embraced the Purple Hands Pledge™.
♥ Vangela modeled how to make the Purple Hands Pledge™ effective in your school/organization through building a team of leaders through students and staff, how to partner with businesses, and what the "magic" is in the project to create a safe and loving school.
♥ Vangela's passion for violence prevention comes from working as a Juvenile Caseworker, Play Therapist, School Counselor, and Victim Advocate for Domestic Violence and Child Abuse. Vangela's broad background brings excitement for sharing the importance of love in all her work and life experiences!
"I think this message can be taught to anyone. We needed a positive behavior program"
Sir Darrell-Bridges, 11, has asked his immediate family members and cousins to support him in creating a peaceful environment not only at school but at home, too. "People were using negative words toward each other," he said about conditions at the school. "First there would be verbal fights and then it would turn physical."
"My vision is for it to be in all schools in the district and in Arizona…It's all about them. It's their school, their community."
"One of our old students, Angela Silva, came back to visit our class today and was telling me about her new school.  I asked her if she had met any nice kids there, and she told me that all the kids at her school were mean.  Initially taken back, I responded by asking her how they acted mean and why she thought they were like that.  Without me making ANY reference to it, she immediately brought up The Hands Project.  She said, "you know, it's different over there because they don't have anything like the 'hands and words' project.  Kids are getting in fights every single day and they don't get it.""
"It's so easy. The kids get it. The people get it. It isn't a goofy pledge. There's a very serious meaning behind it."
"Violent behavior has never been a severe issue at the school but Hands & Words Are Not For Hurting® ingrains a nonviolent behavior into youths so that it will be carried forward into adulthood."
"My vision is for it to be in all schools in the district and in Arizona. It's all about them. It's their school, their community."
"We owe you a lot for introducing this program to our school and I wanted you to know that.  Things don't happen overnight, but I do see my students improving.  The neatest thing though is when they forget and someone else will remind them that hands and words are not for hurting.  It is sinking in and that is fantastic."
"It hurts your family and everyone around you when you don't listen to the Hands Project. There are 70,000 people in the city of Avondale. Imagine if they all stopped hurting each other. We'd be the safest city ever."
"It takes time for any change to happen, especially for such a hard topic. The power is to empower the kids. That's really how transformation happens."
"We want this world to be better. We're making a promise to not use violence"
"We want to stop the bullying. We want the world to be better"
A compelling story from Vangie Lampee, Quentin Elementary School Counselor
"For those of you, still skeptical of The Hands & Words Are Not For Hurting Project® I wanted to share with you a story. This morning I spent 2 hours with a 4th-grade boy who witnessed his mother being beaten by her boyfriend this morning. He was also hurt in the violent act as well. This has been his life for the past year. When the cops came he was taking care of his 6-month-old baby brother because it's "his responsibility" when his mom is getting hurt.
After listening to him for one hour he states, " Quentin is the best and safest place to be because we know that our hands and words aren't for hurting here. I wish we could have this everywhere, then people would know that!" This is a very very powerful statement! Not only is he saying that he feels safe here at school, but he is saying that because we are all on the same page, he feels like his household should be too.
When something powerful like the Hands Project is embraced and taken seriously, other people look at it with the same view. We must all be on the same page and teach lessons with the project in order to educate." – Vangie Lampee
A Picture is Worth More Than a Thousand Words!
Craig Ross, dedicated elementary school teacher (Lowell Elementary) and professional photographer, generously volunteered his time Capturing the Intensity, Excitement, and Pride of more than 1000 kids at Quentin Elementary and the many community members who came to support and share this amazing day!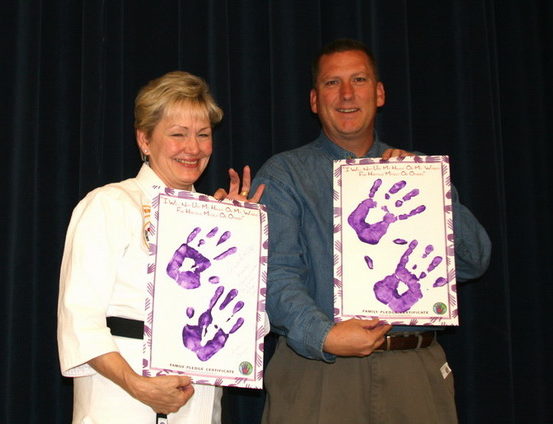 Ann S. Kelly & Craig Ross take the
Purple Hands Pledge™ together!
Memories That Will Last For Generations!