HANDS & WORDS ARE NOT FOR HURTING PROJECT®
Join Hands and Hearts: End Abuse, Violence & Suicide in our homes, schools, and communities around the world. The Hands & Words Are Not For Hurting Project ® is an effective tool and a key piece in the puzzle of abuse, violence & suicide prevention education.
Mission Statement: To educate each person in every community about their moral and legal right to live free of abuse and violence.
Our Vision: Safe Homes. Safe Schools. Safe Communities.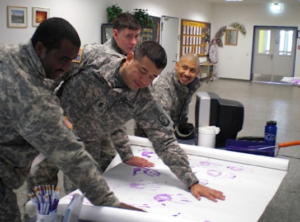 U.S. Army servicemen and teens take the Purple Hands Pledge® for Domestic Violence Awareness month in Ansbach, Germany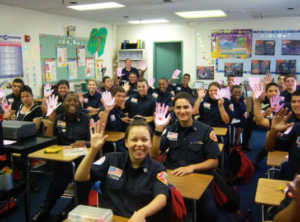 6th – 12th grade students interested in Public Safety careers take the
Purple Hands Pledge® daily
"The preschool violence prevention program developed by The Hands & Words Are Not For Hurting Project® is by far the most innovative and inspired effort yet in addressing the issues of bullying and mean-spirited teasing. Our eighth-grade students who participated in the preschool visits came away with a profound sense of having made a real difference in the lives and characters of the 4 & 5-year-olds they mentored. Not only did our middle school students have the chance to model and demonstrate positive coping skills but they also were able to take away an improved self-image of themselves."
"We only showed the "Power of One" but I believe it was a perfect video due to time restraints that captures the importance of not using or words or hands for violence…Approximately 75 pledges were taken at the dining facilities. Most were soldiers, some Family Members' and an Elementary school-age child (she was very excited). At the school we had the 200 students we spoke with that also took the pledge."
"I wish more companies and foundations saw the importance of this program and would help fund it."
"I feel it's a rewarding and cost effective program, giving maximum results from minimum investment."
"We want this world to be better. We're making a promise to not use violence."
"The depths of the program are only limited to your imagination!"
"No doubt there are already existing programs for promoting this goal, BUT the Purple Hands Pledge® can add an additional level of awareness and support for choosing a violence-free way of life."
"It has been an especially useful program for supporting the bullying prevention curriculum we established ten years ago here in Billings Public Schools. "
"I think the Purple Hand Pledge® has really changed Highland because it's like a promise you can keep your whole life."
"The Hands & Words Are Not For Hurting Project® emphasizes positive behavior modification to encourage us all to work together to break the cycles of child abuse, domestic and family violence, bullying in schools, and suicide."
"I love this program! If there was ever funding within the organization to hire a spokesperson/trainer to travel the county to promote it, my application would be the first one submitted!"
"The Hands Project is and will forever remain an integral part of our philosophy, here at the Public Safety Academy… We are getting the word out daily!"
"The work is the most rewarding when the children remember and repeat the songs and poems they were taught. They're going to be our age in a couple of years, so hopefully, they'll learn about being nice. Kids these days are so mean to each other in school."
"The daily recitation of 14 words in our schools is a small price to pay to save a life. "
"I'm going to do this! I believe that establishing changing core values is the only thing that will reduce violence. Thank you I believe this is an inspired project-Go with it."
"At the elementary school that I was placed in previously, we had 15 severe behavior referrals prior to implementing the Purple Hands Pledge®. Severe behavior referrals dropped to 2 the following year. The effectiveness of this program is significant."
"Having this common framework to talk with our students about their behavior has been very effective in correcting and reducing hurtful behavior in school."
"A simple practical approach teaching self-control, accountability for our words and actions, empathy for others and self worth"
"I have to tell you that I have one student who despite my working with him for several months and thinking he should know my name by now, comes to find me on the playground and addresses me as, "Purple Hands Teacher." It makes me smile."
"Not once this entire year have I felt like anyone was proud of me (except for my mom, of course) or cared about what I was doing. I feel completely invisible at my school and it's been an incredibly difficult year for me. I can't even tell you how much it meant to me to be recognized in front of both schools and to be given such a prestigious award. Thank you so much

."
"Good for schools- so simple! Forms strong partnerships"
"Every time someone hurts me with their hands and their words, I get another nail in myself… They stay with you forever. When you hurt someone with your words and your hands, it doesn't go away… You don't want to do that to other people."
"It's nice just to come in and see them smiling."
"Dear Ann,

I thank you for all you have done for me. Naming me the ambassador of Iowa, and I will keep doing all that I can to get the word out. Thank you, without this, I would not be the guy I am today, you have changed my life, Ann. I know you only wanted the $25.00, but I decided to give an extra $15.00. I know it is not much but I plan to keep donating to the program. I have one goal that is the most important to me. Make Purple Hands the most known anti-bullying group in the world.

Christian Thomas Conover"
"Community members welcomed the Purple Hands Pledge® with open arms, celebrating their opportunity to make a lasting positive impact."
"The Purple Hands Pledge® really helped me not be teased."
"Overall, people feel more safe and secure, making learning that much easier."
"I really enjoyed working with the student groups doing the Purple Hands Project. Extremely important message and it makes a great public health nursing project."
"I found that the project held the students' attention and enthusiasm well in addition to appealing to many groups across the lifespan."
"We want kids to be conscience and aware of the fact that they have a choice to be violent or nonviolent… It's a tool. It's just one piece of the puzzle in violence prevention education."
I have observed students telling others, when they've been hurt by them, that they are not following the Purple Hands Pledge®.
"As a long-time school counselor with experience at all grade levels, I wholeheartedly endorse the Hands & Words Are Not For Hurting Project's® Preschool Curriculum. At a time when concerns about bullying in schools have increased, this excellent antiviolence curriculum teaches students not to use their hands or their words to hurt themselves or others. It was impressive and heartwarming to watch our Peer Helpers teach this program and interact in a meaningful way with local preschoolers. The bonding and positive modeling that took place between the preschoolers and our peer helpers further insured that the students would learn and internalize the Purple Hands Pledge® message."
"I like how it makes me more confident."
"It reminds you that you won't abuse others in any way."
"It made the kids think and it gave me something to say when they were being unruly to each other. "
"The Positive Behavior Interventions and Supports (PBIS) team at Gordon L. Willson Elementary School felt that having the students take this pledge will act as a reminder of how important it is to treat everyone with kindness."
"I like how it is something that you say every day. And it sticks in your head. It makes you think about what you are saying and doing."
"The Purple Hands Pledge® helps me think before I say something rude."
"I hope the preschoolers will understand the negative impact of violence. I hope they learn that violence is not something good to do so that they won't grow up to be criminals."
"If we can impact just a few of our students by making them stop and think before acting then a project is successful. I hear kids refer to "Hands & words are not for hurting" in many situations, some in joking situations, but even then there must be awareness. Something is sinking in."
"Every time you hurt someone with your words, it's like breaking off a little piece of their heart which cannot be replaced easily. That is why we have to watch our words so that we don't harm others."
"I think it's good that we do the pledge because it can teach people that saying mean things and hitting people is bad. Someone could get really hurt."
"Empirical evidence from schools which have implemented the project show remarkable reductions in bullying activity and strong improvement in positive class behavior."
"You are taking a stand that you promise you won't hurt anyone else or yourself."
"It addresses the universal need for safety in people's lives."
"I appreciate all your support and help as I help to spread the message to end violence and abuse. One day I'd love to brainstorm some ideas with you how we can spread the Purple Hands Pledge® further and grow your program so that every child and family will benefit from this wonderful initiative"
"I think this message can be taught to anyone. We needed a positive behavior program."
"As a result, children in Crawford County are benefiting from the anti-bullying message. The school has witnessed great results (95% or more) of children making the Purple Hands Honor Roll for positive behavior. Please consider this worthy cause!"
"The Purple Hands Pledge® has made kids more supported in life."
"These are the most important 14 words you will need to remember all your life."
"I know my school will continue to teach this pledge for years to come as it is crucial during these children's formative years to understand this important concept."
"Just as reciting the Pledge of Allegiance instills a sense of pride and commitment to its ideals, reciting the Hands & Words Pledge could instill a commitment to nonviolent problem-solving."
"One young lady did not want to take the pledge so I asked her in private and after speaking for some time and explaining why it is important she took the pledge. That made my day and I hope that she remembers the importance of it."
"Walnut Middle School in Nebraska reports that after implementing the Hands Project, they noted a significant decrease in sexual harassment, aggressive behavior, assaults, and disruptive behavior in their classrooms."
"In Salem, several students who have contemplated suicide tell us that, after recalling the words of the Pledge that they learned in school, they decided against taking their own life."
"I think that the Hands Project is a very positive one. The boys in 6th grade like to push, shove, and etc. so we constantly remind them of the "Hands & Words are Not for Hurting" Pledge. It works. I feel that we should continue the project. If something works, don't change it!"
"I used to be a target, but now because of the Purple Hand Pledge® they have stopped bullying and are more kind than ever!"
"I'm excited about exploring ways to introduce this in my community. Thank you! What a wonderful program."
"I like the Purple Hand Pledge® because the attitude in our school has changed a lot and has become more positive."
"It's so easy. The kids get it. The people get it. It isn't a goofy pledge. There's a very serious meaning behind it."
My vision is for it to be in all schools in the district and in Arizona…It's all about them. It's their school, their community.
"Our last event was with the high school and middle school and we had the opportunity to speak with about 200 children about the Hands Project®. The students loved the project as did the soldiers and the Garrison Commander, who hopes this will bring about a reduction of DV within his community."
"Student activists under the guidance of Mr. Jim Taylor, Director of Choirs, created an elective "Hands and Words Are Not For Hurting Project® Class" promoting widespread participation in the Purple Hands Pledge® to end abuse and violence in their homes, school, community and internationally.

The Purple Hands Project's® international partnership was formed with the Family and Marriage Society of South Africa (FAMSA) and their Director, Marietha Oelofse. FAMSA created a program entitled "Violence Awareness Program" to work with children in their schools as a tool to be used by educational trainers to seriously address the issues which help to perpetuate violence in the home and society. They found the Purple Hands Project on the internet and thought "it was a stunning idea"! In just one short year a strong alliance has begun."
"Our hearts are heavy today, a boy at my kid's school committed suicide. It tears my heart to think of their feeling of no self-worth to think they are better off gone. Your program is so very vital to our young people I can't tell you how grateful I am. Thanks again, sorry if I got too heavy!"
"We want to stop the bullying. We want the world to be better."
"For those of you, still skeptical of The Hands & Words Are Not For Hurting Project® I wanted to share with you a story. This morning I spent 2 hours with a 4th-grade boy who witnessed his mother being beat by her boyfriend this morning. He was also hurt in the violent act as well. This has been his life for the past year. When the cops came he was taking care of his 6-month-old baby brother because it's "his responsibility" when his mom is getting hurt.

After listening to him for one hour he states, " Quentin is the best and safest place to be because we know that our hands and words aren't for hurting here. I wish we could have this everywhere, then people would know that!" This is a very very powerful statement! Not only is he saying that he feels safe here at school, but he is saying that because we are all on the same page, he feels like his household should be too.

When something powerful like the Hands Project® is embraced and taken seriously, other people look at it with the same view. We must all be on the same page and teach lessons with the project in order to educate."
"Violent behavior has never been a severe issue at the school but Hands & Words Are Not For Hurting® ingrains a nonviolent behavior into youths so that it will be carried forward into adulthood."
"Parents and the school need to work together, whether the child bullies, is a victim of bullying, or is a witness to bullying. Collectively we can create a culture of respect and trust while providing a friendly campus where everyone is treated respectfully."
"Thank you for your organization, and thank you for working so hard to change human behavior, and in time change the world."
"In our classrooms, we really use this and believe in this."
"The work you are doing is so very very important, and I wish it were in every school throughout the nation!"
"During the character assemblies, I've realized that I haven't been doing a good job of watching what I say and that I sometimes end up hurting others a lot… I am thankful for the assemblies which remind me to keep my tongue from evil even when it's hard. So thank you assemblies and thank you God for reminding me what I need to do!"
"Having this common framework to talk with our students about their behavior has been very effective in correcting and reducing hurtful behavior in school."
Pledges Taken Around The World
Our Purple Hands Pledge® has been taken in all 50 States and 26 Countries Worldwide!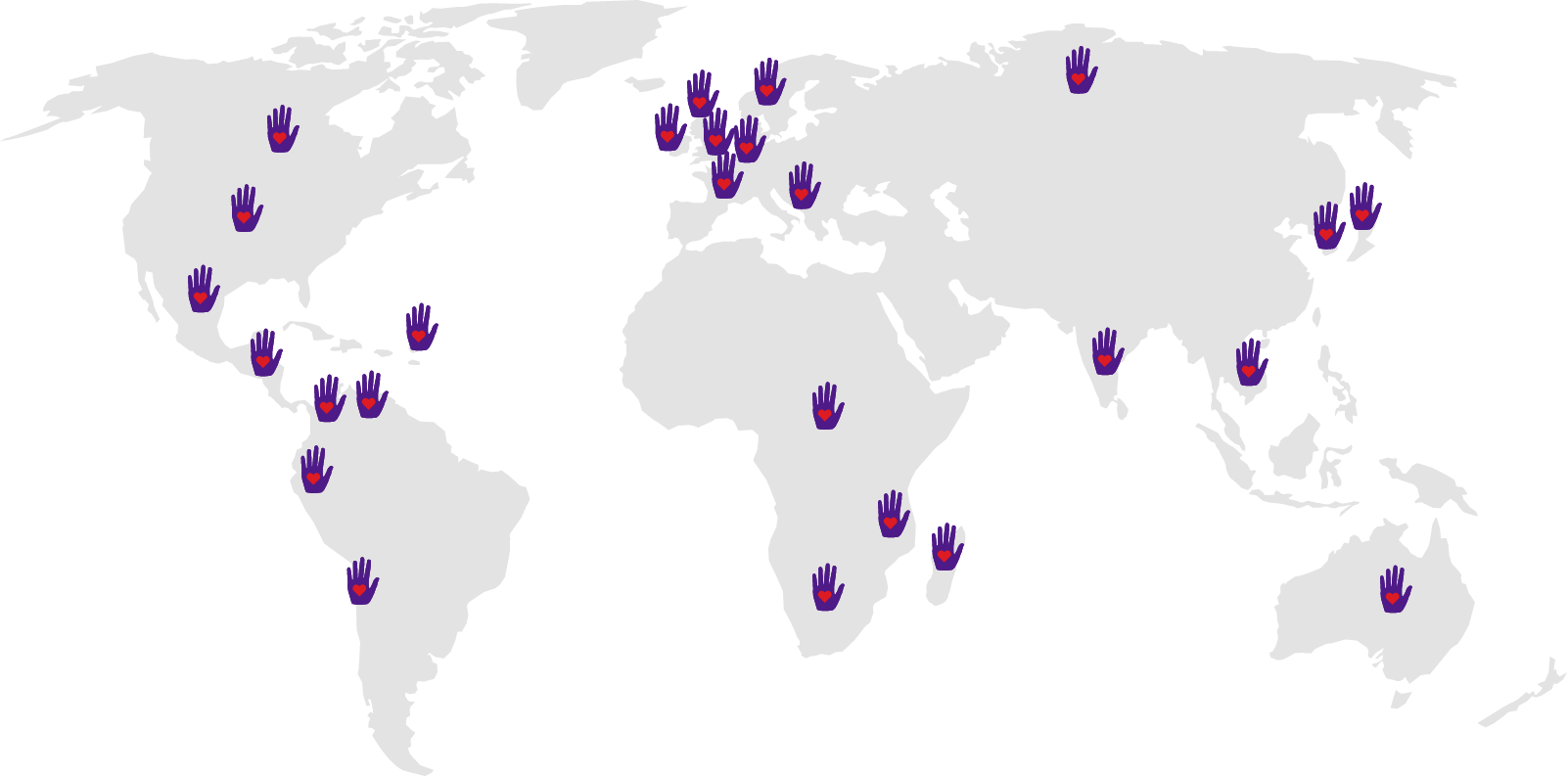 Our Purple Hands Pledge® Partners:
Schools (all grade levels)

Universities
Homes

Daycare Facilities

Birthing Centers

Hospitals/Healthcare Facilities

Places of Worship

Youth Organizations

Correctional Facilities

Government Agencies
Public Officials
Law Enforcement

Homeless Shelters

Battered Women's Shelters

Batterer Treatment Program

Businesses

Workplaces

Mental Health Counseling Services
Child Abuse Assessment /Treatment Centers
Schools and Families in the U.S. and 26 countries have taken to Heart the Purple Hands Pledge ®
United States

U.S. Virgin Islands
Mexico
Japan

Canada

Australia

Russia

Germany

Sweden

Venezuela

India

North Africa

South Africa

Zambia
Croatia

United Kingdom

France

Peru

Cambodia

Ireland

South Korea

Madagascar

Tanzania

Honduras

Columbia
Scotland
Switzerland
Chile