South Africa Schools
The Families Against Violence Awareness Program
FAMSA in the city of Potchefstroom adopted the Purple Hands Pledge™ in 2010. It has been implemented in forty-nine schools in the Northwest Province of South Africa (cities include: Potchefstroom, Klerksdorp, Stilfontein, Orkney, Vryburg, and Rustenburg).
The aim of FAMSA/VAP is to intervene, by showing children alternative ways of dealing with their problems to counter violent behavior learned in the home.
"Violence and abuse are at epidemic proportions in our society. By incorporating the goal of the Hands & Words Program to end abuse and violence the cycle of violence can be broken and a step towards a violence-free generation becomes a possibility."
– Ansonette van der Merwe, Violence Awareness Program Coordinator, Potchefstroom.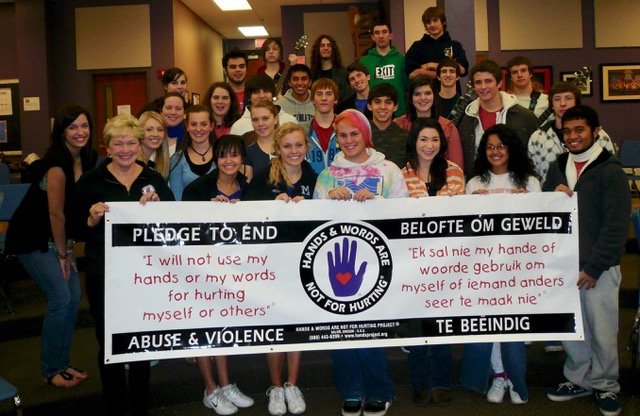 ♥     McNary High School students of Keizer, Oregon, were inspired to create a benefit concert for South African schools. McNary music and fine arts student activists performed "A Night of Hope" fundraiser.
♥     McNary students raised a total of $1450.00.
♥     Funds raised were used to donate official Hands & Words Are Not For Hurting Project® materials (combination English/Afrikaans banner, magnets, posters, wristbands, purple hands bears, stickers, etc.)  to effectively implement and sustain the Purple Hands Pledge™ in schools and communities in the Northwest Province of South Africa.
♥     McNary fine arts students are pictured with the Afrikaans/English combination pledge banner donated to FAMSA & the Violence Awareness Program.
"I have learned that the Pledge is not only a phrase that we say every Thursday, but it is a phrase with a lot of meaning and has made me not use my words and hands when I'm angry. I thank the Pledge."
"Yes because I learned a lot how to control my anger when I'm angry and I learned how to solve the violence between me and someone."
"Yes the hand pledge will make a difference because I learned how to respect other people and how to respect yourself."
"Before the program I used to think people deserve what comes to them, but before I same something nasty about someone the pledge helps me to think about other people's feelings."
"Because I realize how I've had hurt people with my hands and my words. Now I know how to control my anger. I've learned a lot from you."
"Because I can get better at doing the right thing and making the right choice."
"I said yes because I learned that I must not read a book by its cover, anger is a feeling violence and abuse is a choice no matter what and also that I must not use my hands to hurt others or myself."
"Well prepared lessons presented in a very professional fashion, but with the necessary compassion. Thank you very much!"
"Brilliant presentation, the best I have heard in 30 years being an educator, content includes all necessary aspects."
Purple Hands Pledge Bear Program, ages 5-7
Pre-K → 2nd Grade Curriculum Activities Pictured Below
Families Against Violence (FAV) Grade 7, ages 12-14