Gretchen Olson
Board of Directors – Hands & Words Are Not For Hurting Project®
Award Winning Children's Author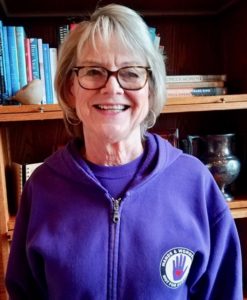 Gretchen Olson serves as Co-Chair on the Board of Directors for the Hands & Words Are Not for Hurting Project®. Gretchen is also the author of the young adult novel Joyride (Boyds Mill Press).  She lives with her husband on a blueberry farm in Amity, Oregon.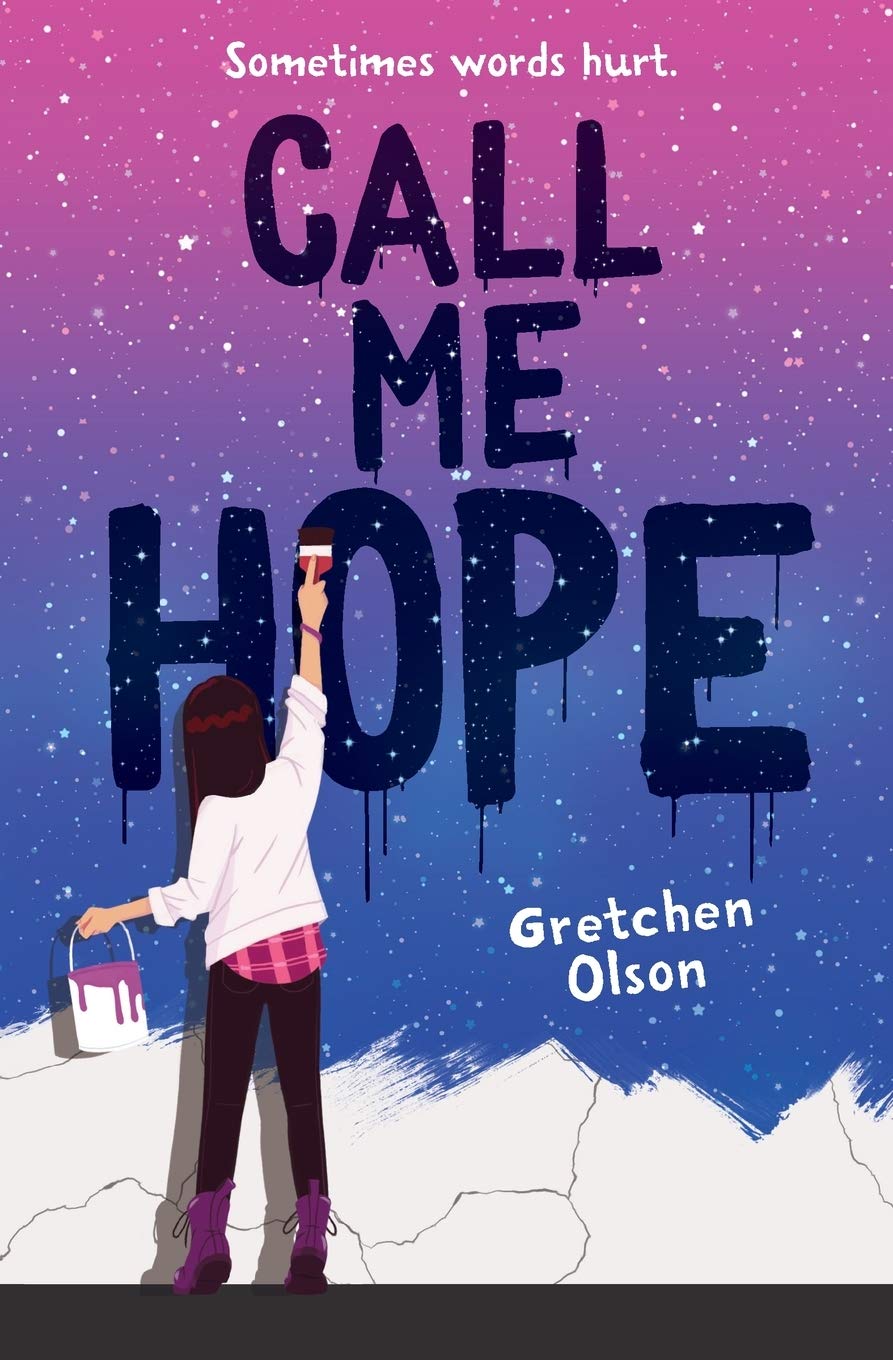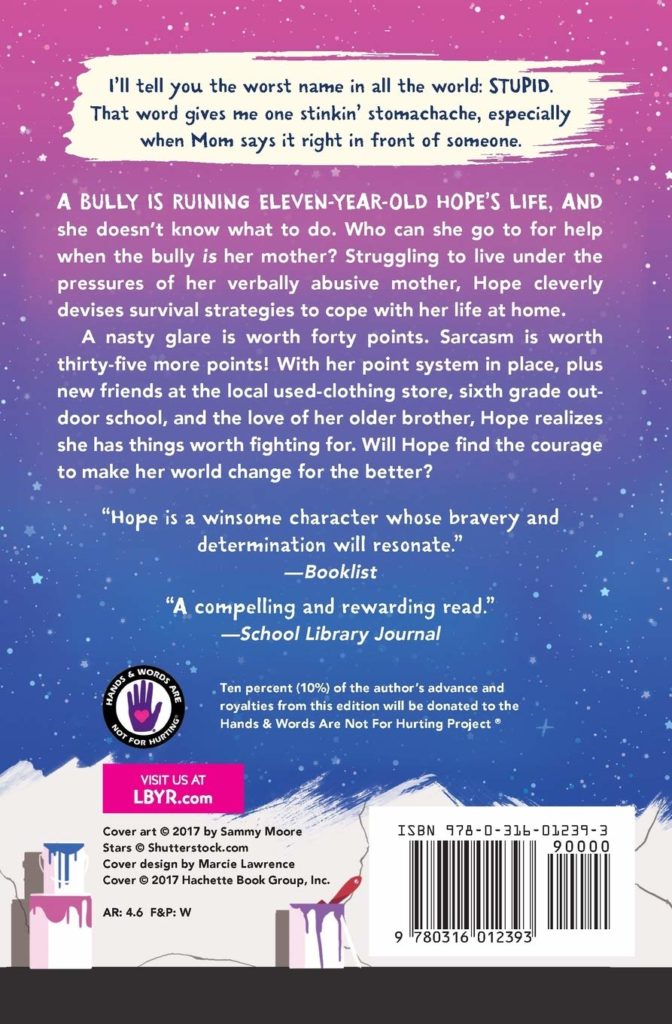 Gretchen Olson, children's author, is Co-Chair of the Board of Directors of the Hands & Words Are Not For Hurting Project®. Her novel, "Call Me Hope," addresses the pain of verbal abuse from the point of view of Hope Elliot, an 11-year-old girl who is devastated by her mother's hurtful words. Hope finds strength in her own survival techniques and from two zany women who own a resale clothing store. As the story progresses, Hope gains the courage to confront her mother's abuse and is thrilled when her mother takes Purple Hands Pledge™. Hope's school participates in the Purple Hands Pledge™ daily and reinforces the message with ongoing annual activities. 
Gretchen's editor, Alvina Ling, and publishing house, Little, Brown & Co., have also embraced the Purple Hands Project, placing the official Purple Hands logo on the book's back cover, along with the Purple Hands Pledge™ shown on the quote page.  Our Founder/Executive Director's own words of praise grace the first page of quotes.
The entire cover is in shades of purple and red, which are the symbolic colors used in the Purple Hands Project logo.
"Call Me Hope" has also been published in Korean & German. 
Gretchen is generously donating a portion of the proceeds from the sales of "Call Me Hope" to the
Hands & Words Are Not For Hurting Project®. 
"Anyone who equates child abuse only with physical blows may think in broader terms after reading this moving story of a sixth-grader tormented by her mother's hurtful words… Children who can identify with Hope's predicament will find solace in this book as well as tips for survival, listed by Hope in the final chapter."
School Library Journal says:
"… a compelling and rewarding read."
"I remember the most hurtful thing my mother ever said to me, 'You are so ugly I am embarrassed that people know you are my child.' Those words filled me with self-doubt and still ring in my ears to this day."
"Hope now gives us a voice."
Ann S. Kelly – Founder/Director
Hands & Words Are Not For Hurting Proejct® says:
"This beautiful, inspiring story should be read by mother and daughters together. This captivating, healing novel brings extraordinary insight into the destructive emotional impact of verbal abuse on both mother and child. Together, with a promise and a Pledge to one another, the gift of love is given. "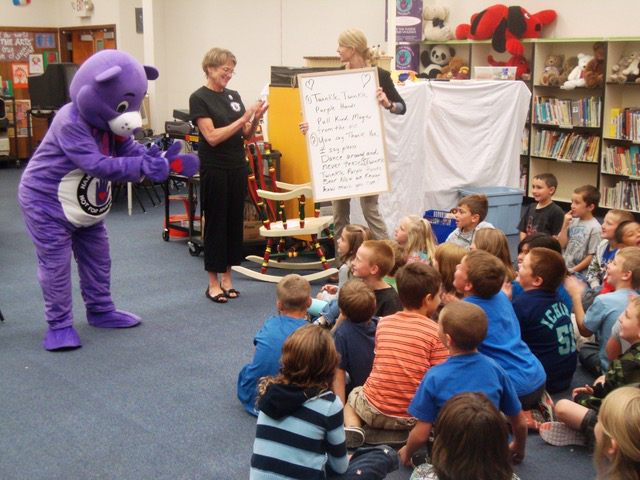 University of Oregon Community Award
Presented to Gretchen Olson, Board of Directors – Hands & Words Are Not For Hurting Project®
Honoring her Many Years of Compassionate Leadership and Service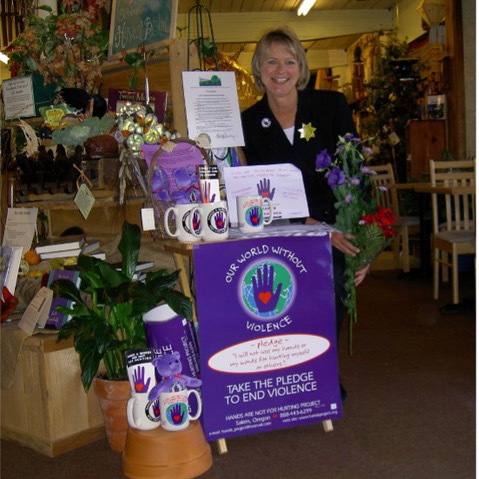 Incahoots Floral & Gifts
Community Business Partner
McMinnville, OR
Grandmother to Granddaughter:
♥ A Gift of Love ♥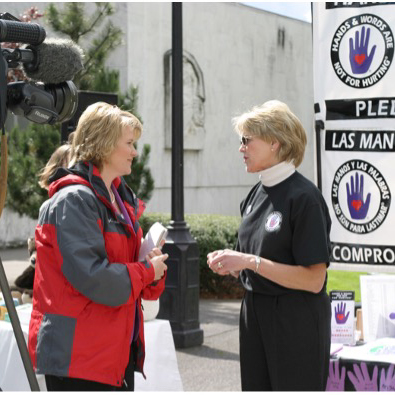 Annual Child Abuse Prevention Rally
Marion County Courthouse
Salem, OR
Student Activist, Alice in South Korea inspired by "Call Me Hope" won recognition for her High School Social Participation Project. Her peers felt her project had the highest quality and the most meaningful influence on society of all the entries. Alice's teacher remarked that the Purple Hands Pledge™ is very impressive and good, and led the way in protecting children. We are so thrilled that Alice shared her rewarding experience with Gretchen Olson, Author via E-mail correspondence!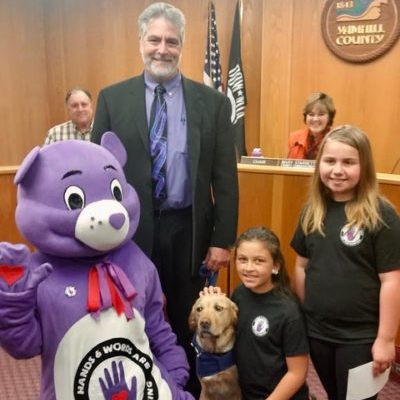 Yamhill County District Attorney
Bradley C. Berry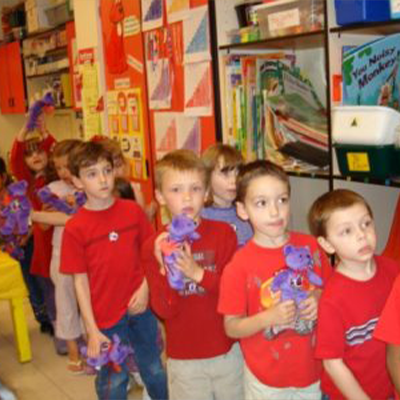 Amity Elementary School
Amity, OR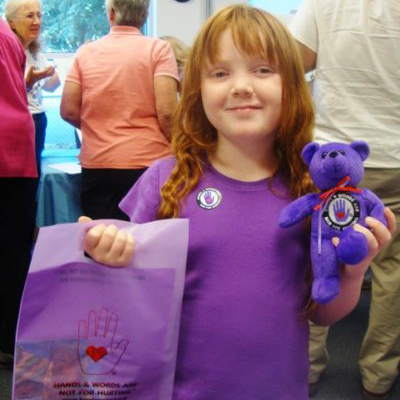 Interfaith Peace Fair
Mcminville, OR
A message of gratitude from Ann S.  Kelly, Founder/Executive Director
Hands & Words Are Not For Hurting Project®
"A gifted author, compassionate leader, and community organizer, Gretchen has given generously from her heart countless volunteer hours, mile after mile, year after year, never seeking personal praise. I know of no one more deserving than Gretchen to receive special recognition and appreciation for her many years of compassionate leadership and service. I, and all who know Gretchen, respect and admire her for her love for children and her tireless work for them to feel valued."