Xander "The Wonder Dog"
Purple Hands Pledge Ambassador — Klamath Falls, OR
Xander Carried the Purple Hands Pledge™ to Every Continent World-Wide!

♥ In Loving Memory 2012 – July 12, 2021 ♥
With Eyes Removed, I Clearly See That Kindness Matters!
Here is what I have to say….
As a puppy, I had a head injury that resulted in both of my eyes being removed and permanent breathing challenges when I sleep. At ten months old, my owners put me in the car and I was excited that we were going for an outing together. We got out of the car and entered a building; I met some new friends that were giving me lots of TLC. Then I heard the door close, and the familiar sound of the car starting and driving away. Did they forget me!?! I didn't realize until later what had happened. They didn't forget me; they left me behind! My heart sank! I turned to my new friends at the Klamath Animal Shelter. They sat with me, hugged me, talked to me, and told me that everything would be okay. I was confused and scared, but I knew that they were there to help me.
Though life as I knew it had ended, I was determined to keep my positive outlook. I began using my other senses, the love in my heart, and my many blessings to brighten the days of everyone that I met.
A new chapter of my life opened when Marcie and Rodney Beedy recognized my potential to be a part of the community as a working therapy dog. They adopted me, named me "Xander", and my journey has been amazing!
When the Beedy family met Xander, they saw something special in him and knew he could improve the lives of others.  The Beedys' new dog Xander soon passed his AKC Canine Good Citizen test and became a certified therapy dog, visiting hospitals, nursing homes, schools, and abused children.  Even without sight, Xander has an extraordinary ability to sense humans in need. His gentle, calm demeanor has provided unmatched comfort for so many.
Xander The "Wonder Dog", from Klamath Falls Oregon USA,
reaches celebrity fame in Hong Kong, China!
Xander's National Award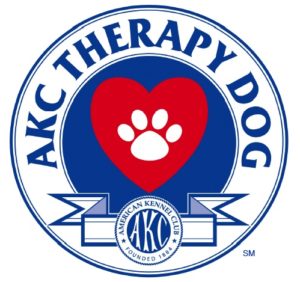 American Kennel Club's Award for Canine Excellence
Therapy Dog Honoree
Xander was awarded as AKC ACE's Therapy Dog in 2014!
A Therapy Dog is certified to provide affection and comfort to those in need.
The Awards for Canine Excellence celebrate canine heroes in appreciation for the inspiring ways in which they contribute to our lives. Each year, five loyal, hard-working dogs are commemorated for making significant contributions to an individual or their communities. One award will be given in each of the following five categories:
Uniformed Service K-9
Search and Rescue Dog
Therapy Dog
Service Dog
Exemplary Companion
Read All About It!
Xander in National Geographic's
"LOYAL" Written by: Rebecca Ascher-Walsh
38 Inspiring Tales of Bravery, Heroism, & the Devotion of Dogs