Oregon Coast Community Action
South Coast Head Start — Coos, Curry, and Coastal Douglas Counties, Oregon
♥ South Coast Head Start (SCHS) is a comprehensive early childhood program that offers a fun, researched-based curriculum throughout the Southern Oregon Coast
♥ SCHS serves pregnant women and children, up to the age of 5, of income-eligible families
♥ South Coast Head Start works with approximately 350 families
♥ The program is funded by both state and federal grants. All services are provided at no cost to the families.
♥ SCHS's goal for April 2022 is for all of their program options to take and learn about the Purple Hands Pledge™ and provide further information to all parents at the April Parent Meetings & Group Socializations.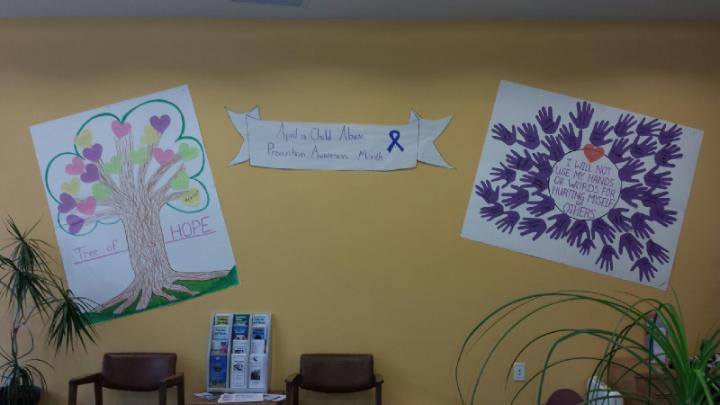 SCHS's Parent Leadership Group displays their Purple Hands Pledges in honor of April being National Child Abuse Prevention Awareness month
South Coast Families First – Coos & Curry Counties, Oregon
Family Support & Connections (FS&C)
♥ FS&C visits are designed to strengthen families and support effective parenting for families receiving TANF(temporary assistance to needy families) benefits in Coos and Curry County with children ages 0-18 in the home.
♥ This family-designed program focuses on keeping families together and helping them achieve both individual and family goals
♥ The FS&C program works with a caseload of 12 families at a time
Supporting Transitions, Employment & Progress (STEP)
♥ Through workshops and home visits, STEP works to provide parents receiving TANF benefits in Coos and Curry County the tools they need to find and maintain employment, develop healthy relationships, and engage in positive, healthy living.
♥ South Coast Families First, has provided 288 adults with employment and skills workshops through our STEP program.
♥ The STEP program works with an average caseload of 16 individuals