Vikki Deuel
Board of Directors – Hands & Words Are Not For Hurting Project®
Special Awards & Recognition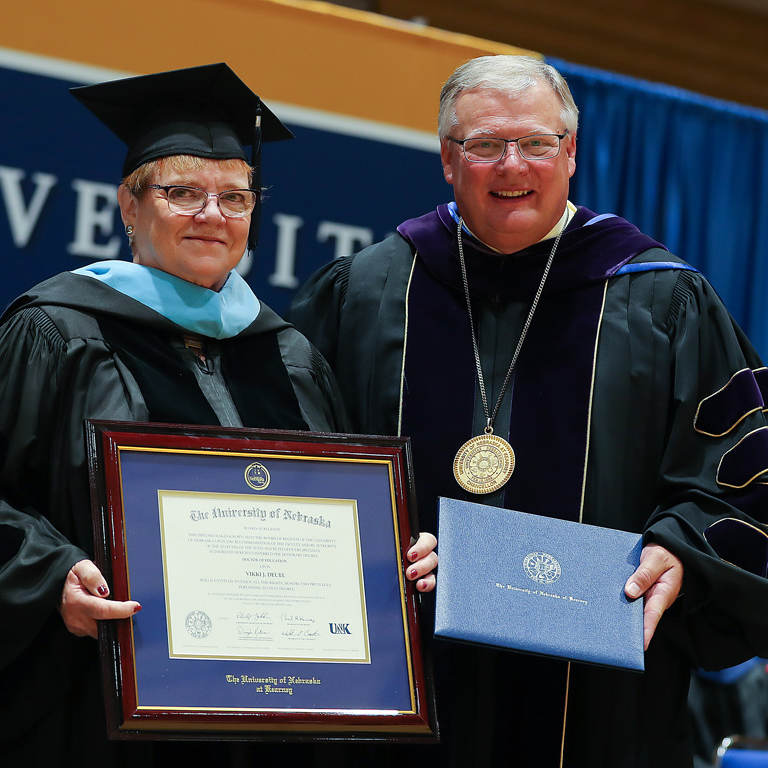 Vikki Deuel alongside Chancellor Doug Kristensen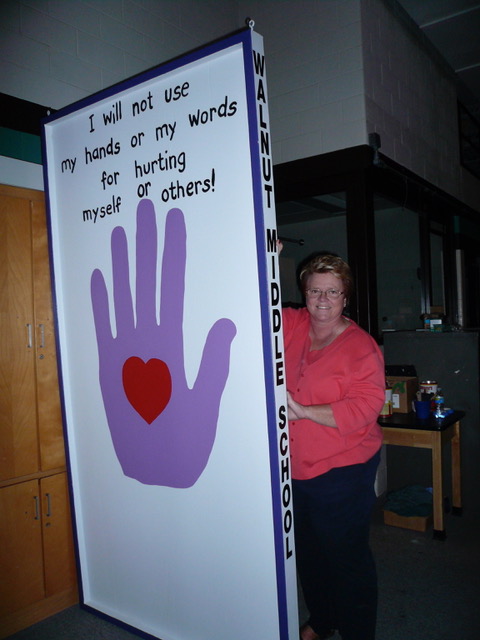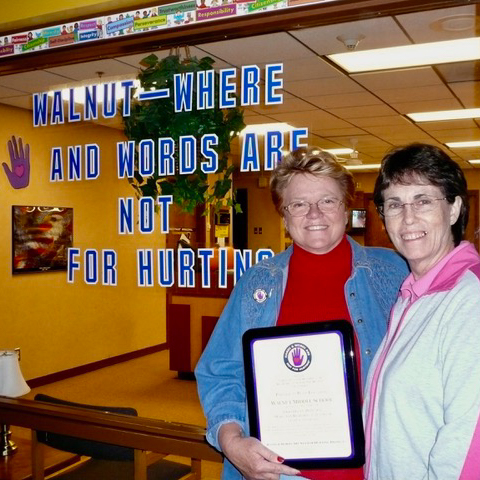 Vikki's Awards
Honorary Doctor of Education Award
University of Nebraska Kearney
Vikki Deuel was awarded an honorary Doctor of Education in recognition of her community service and contributions to public education. Deuel graduated in 1971 with a degree in special education and went on to complete a Master of Arts in special education and educational specialist degree, all from KSC.
She started her professional career as a special education teacher at Walnut Middle School in Grand Island before advancing to the positions of assistant principal in 1985 and principal in 1990. Walnut Middle School received national recognition under her leadership, including the National School of Character Award in 2003, Operation Respect National Model School designation in 2005, and Hands Project National Partner in Peace in 2007. Following her retirement, Deuel taught in UNK's Department of Teacher Education for five years.
In addition to her professional accomplishments, Deuel has an impressive record of community service, volunteering with the Nebraska State Fair, Friends of Grand Island Parks, and other organizations. She's president of the Grand Island Public Schools Foundation Board of Directors and a member of the Literacy Council of Grand Island Board of Directors. Deuel received the Grand Island Northwest Distinguished Alumni Award in 2015 and the GIPS Foundation's Legendary Educator honor in 2017 and was named the YWCA Grand Island Woman of Distinction in 2018.
The YWCA 2018 Woman of Distinction Award
Grand Island, Nebraska
Since 1986, the YWCA has honored a woman in the greater Grand Island community who embodies its mission of eliminating racism and empowering women with the Woman of Distinction Award, which honors women who are inspiring and innovative, display exemplary talent and achievements and breathe life and energy into our community. The program has expanded since then to recognize more than one woman each year.
Legendary Educator Award
Grand Island Education Foundation
The Grand Island Public Schools Foundation is pleased to offer the Legendary Educator Awards. This award was established to recognize the many outstanding educators who have made it their life's work to ensure success for thousands of Grand Island students. In 2017, Vikki Deuel was awarded the Legendary Educator Award for her tremendous work with the Grand Island students.
"A huge part of the humbling recognition was due to the Hands Project and the integral part it played in the transformation of our middle school to a National School of Character and an Operation Respect National Model School." – Vikki Deuel