The Pledge
The Purple Hands Pledge
"I WILL NOT USE MY HANDS OR MY WORDS FOR HURTING MYSELF OR OTHERS"®
…fourteen words to help people PAY ATTENTION to the things we say and do to ourselves and others that causes pain.
The Purple Hands Pledge encourages dialogue about all forms of abuse and violence…from name calling, belittling, put downs, and negative self talk (I'm stupid, ugly…) words that can escalate to suicide and/or murder.
When taking the Purple Hands Pledge you are asked to trace your own hand on purple paper, sign your name and age and post your Pledge in your home, school, workplace, place of worship, or wherever people live and work together to serve as a visual reminder of your personal commitment to stop and think before you say or do anything hurtful.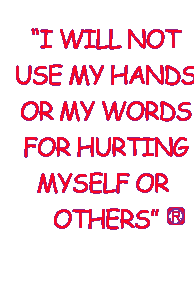 The Purple Hands Pledges represent symbols of Unity as we reinforce and recognize the Power and Value of every individual's choice…to use our words and actions to help…not to hurt…ourselves or others.
Anger is a feeling, violence and abuse are always choices.
Ann S. Kelly
Author – Hands & Words Are Not For Hurting Pledge – 1997
Creator – Hands & Words Are Not For Hurting Logo – 1997